Do you speak puppetry
Puppetry as an alternative form of communication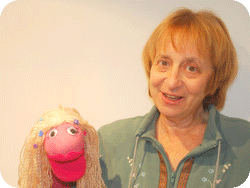 Farryl Hadari has been an educator in the field of puppetry for more than 30 years. She has initiated many puppetry projects...
read more
.
What is "speaking puppetry"?
Do you speak puppetry? Speaking is ...talking; talking is ...communicating; puppetry is ...puppetry! How can you speak puppetry?! Usually, when we refer to communication, we envision the spoken language as the means for communicating. However, there are many other alternative forms of communication that are occurring in everyday life. Visual communication such as body language and facial expressions are such examples.
A person can express one message through words while simultaneously expressing a contradictory message through his facial expressions. This person could tell a friend about his success in his professional life, while, at the same time, avoiding direct eye contact. If his friend was aware, she might discover a feeling of sadness emanating from her friend's eyes. She would hear his words, but his eyes would invite her to be curious and concerned about his being. The visual communication would have revealed something about the person that his words were not able to convey.
The more we can observe and become open to such ongoing methods of communication, the more we can create a heightened awareness of self and others. This awareness widens the horizons of understanding, which, in turn, enhances communication. The puppet can be an excellent vessel for visual and metaphorical communication. In order to utilize this communicative potential, it is necessary to learn to speak puppetry!
About this site
This site focuses on using puppetry in the fields of education, theatre, therapy, and social work. It can also be applied to other professions require the element of people wanting and needing to establish communication with other people.
This site is also for anyone who may have some curiosity about puppetry.
Puppetry...
Teaching puppetry