Do you speak puppetry
Puppetry as an alternative form of communication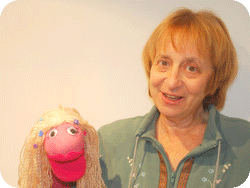 Farryl Hadari has been an educator in the field of puppetry for more than 30 years. She has initiated many puppetry projects...
read more
.
Puppetry as a Means of Social Expression
Fida was a student in one of my puppetry classes. She was a devout Muslim, covered her head, and was always in traditional dress. She lived in a very poor Arabic village. During the course of the semester, the members of the class retained a silent distance from her and she from them.
The final project in the class was a sculpted, papier mache hand puppet. When Fida completed her puppet, she jumped up and danced joyously with it. Her puppet's face was divided; one half was sad, and the other was happy. It had no eyes. I invited her to tell the class something about her puppet. She went to the head of the class, gently cradled her puppet, and sang Arabic lullabies to it. After a few minutes, she turned to the class, and said, "I am a thirty year old, single Arabic woman, and this is the first doll that I have ever had. She pointed to its face and added, "I laugh when I am sad."
This short encounter prompted the members of the class to ask Fida many questions about herself and her life; she eagerly answered all of the questions. Toward the end of the discussion, one class member told her,"we have been together in the class all semester, and this is the first time that I have gotten to know you.
Fida had been an outsider in the class until that moment. Through her puppet, she found a way to make her world available to the others. Through her puppet, she and the other members of the class attained several layers of identification: shared feminine identity, the experience of having a doll, the experience of having none, and the experience of being or wanting to be a mother and the experience of not being one. Fida had used her puppet to make a social expression.
Puppetry...
Teaching puppetry