Do you speak puppetry
Puppetry as an alternative form of communication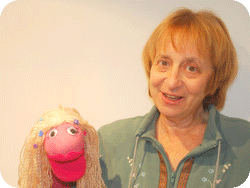 Farryl Hadari has been an educator in the field of puppetry for more than 30 years. She has initiated many puppetry projects...
read more
.
Puppetry as a Teaching Aid
I have taught puppetry for many years to college students majoring in education. One year, I worked with a class specializing in teaching history. At the same time, they were doing their practical work with sixth graders and were teaching them about the fall of Rome. They developed a wonderful shadow puppetry project. The three sixth grade classes were divided into small groups. Each group created a shadow puppet scene about a specific aspect that led to the fall of Rome. At the end of the year, they presented all of the shadow shows in the proper chronological order. The audience included: parents, grade school teachers, teacher trainers from the college, and members of the fourth and fifth grades. Needless to say, not only did they enjoy the performance, but they also learned a lot about Rome, and the student teachers felt the joy of teaching
Puppetry...
Teaching puppetry