Do you speak puppetry
Puppetry as an alternative form of communication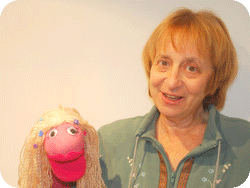 Farryl Hadari has been an educator in the field of puppetry for more than 30 years. She has initiated many puppetry projects...
read more
.
How to make a Walking Toilet Paper Roll Puppet
MATERIALS:
1 cardboard roll from the inside of a roll of toilet paper
Scissors
Colored construction paper
Glue
Colored markers
INSTRUCTIONS:
In the bottom back side of the cardboard toilet paper roll, cut an oval shape which is big enough for two fingers.
Decorate the front side with a puppet face, body and arms.
Put your index and middle fingers through the oval shape until they come out of the opening of the cardboard toilet paper roll. Your fingers now are the puppet's legs. Move them and make your puppet walk.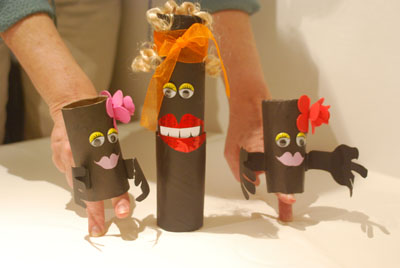 Puppetry...
Teaching puppetry